Page 14 - Getting Started In Hydroponics Guide : Flip It & Read It
P. 14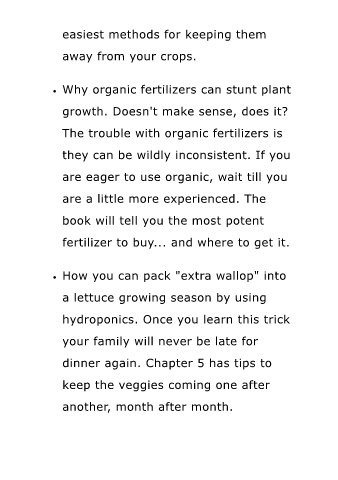 easiest methods for keeping them


                 away from your crops.



                 Why organic fertilizers can stunt plant

                 growth. Doesn't make sense, does it?


                 The trouble with organic fertilizers is

                 they can be wildly inconsistent. If you

                 are eager to use organic, wait till you


                 are a little more experienced. The

                 book will tell you the most potent

                 fertilizer to buy... and where to get it.




                 How you can pack "extra wallop" into

                 a lettuce growing season by using

                 hydroponics. Once you learn this trick


                 your family will never be late for

                 dinner again. Chapter 5 has tips to

                 keep the veggies coming one after


                 another, month after month.